I know I am so super late on my linky but that is okay. This week I seemed to be late to EVERYTHING..
If you would like to join in on the fun -- Go to Doodle Bug Teaching!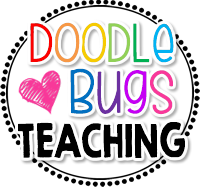 I have been trying so hard to really get into the swing of things. Going back to work has been hard!! Especially having 27 kinders ALL DAY .. This week my five for Friday is two weeks worth of things we did.
This last week we started our ABC boot camp! I have been using clip art for my pictures because my drawing is horrendous.
My little guy is CRAWLING. There is no leaving him by himself. lol
He is all over now. He GRABS everything.
MY classroom - OMG took me forever.. My white board isn't my word wall anymore but I am going to change it back this coming Sunday or Monday.
My calendar wall - PETE THE CAT theme
The night before First day of First Grade - He was SOOOOO excited. He made his own lunch too :)
My lil boy is so grown up.
The first day of school!.. Yes his eyes are closed :)
My lil princess started GYMNASTICS.. she loves it..
That's all .. I will be showing more during schedule sunday! :)