Today I am joining in on this fun Kinder Tribe linky :)
Here is a little about me :)
I have only been teaching kinder for 1 year. This coming year will be number 2.
I love my phone. Its literally on me all day (such a horrible habit)
Tv shows. I can't live with out them. I HAVE LIKE A LIST AND WATCH maybe two shows a night.. HULU them and watch them online.
MY FAVORITE ALL TIME SUPPLY is
Papermate Ink Joy pens.. they are wonderfulness in my hands and on paper.
Pete the Cat is my dude. He is the theme for my room.
I am so excited to incorporate his books into my class more.
MY all time favorite Kinder Blogger has to be MR.Greg he has inspired me to be fun and take Kindergarten one day at a time.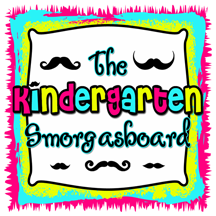 My thing I love about Kindergarten... is the growth the kiddos make. They amazed me this first year and it was truly amazing. They are so eager to learn. Very willing to try try again.
That's A little about this Kindergarten Teacher.