Its that time of the week and I am linking up with Doodlebugs teaching. Thank good ness it is FRIDAY. This week was way to long and toooooo busy! I could barely eat or sleep...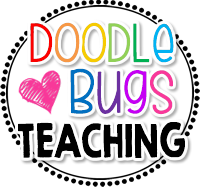 I have been #givingit100 I am on like day 5 or 6.. My goal is to get 10000 steps a day and eat under 1800 cals. The 1800 cals seems to be the most difficult of the challenge and I am not going to lie but I have gone over quit a bit but my steps I have been maintaining.
I am back at work!!! Yes and it was easier then I thought it would be. I was overwhelmed by hearing about all the changes they had implemted in our kindergarten area.
This was a peek at our week!
We did abc puzzles at our abc station :) - These are from Kindergarten Smorgasboard -- In one of the Fox packs -
We were having a letter race!
Learning time for the kiddos! Jayden was trying out a new sight word station I had.
Easter Sunday!
This week has been so chaotic that I have no number 5. I barely could do what you see here :)
The love is working two jobs and having three tiny kiddos its been hard!